Nursing is one of the most cherished professions in the nation. Due to how crucial it is to the citizens, a lot of people have developed an interest in it.
Every year, the health sector recruits a lot of nurses into the system as a result of the high demand for the services they provide to the nation.
In most institutions in Ghana, there are various ranks you may encounter before you get to the highest position. In the same way, when you consider nursing as a profession, there are numerous ranks but this time around the rank is based on the colour of the uniform worn by the nurses.
A uniform is an attire that is approved to be worn by members of an institution or employees at the workplace.
In this article, we are going to consider the uniform worn by each of the ranks as part of our Nurses Uniform Style In Ghana.
Uniform Meaning
Nurses in Ghana wear various colours depending on the kind of nursing they are practicing.
The color white, in connection to the classic white nursing uniform scrub, represents purity, honesty, cleanliness, and a multitude of other qualities that one would expect in a nurse. Light, kindness, innocence, purity, and virginity are all connected with white.
Ghana Nurses Uniform History
Uniforms could be constructed from more durable fabric thanks to the mass introduction of washing machines and tumble dryers in the 1960s, enabling nurses to wash and iron them at home.
The nursing cap had all but vanished by the 1970s, and nursing uniforms began to approximate normal attire. White nursing unifirms were added with the standard dress uniform, giving nurses more alternatives.
Ghana Nurses Uniform Types
District Director of Nursing wears a white uniform with a waist belt.
Degree nurses wear white uniforms.
Diploma nurses wear green uniforms with a white-collar.
Certificate nurses wear green uniform with green collars
Nurse practitioners wear multicoloured attire of their choice.
Community health nurses wear brown uniforms.
Degree midwives wear white uniforms.
Senior nursing officers usually wear blue.
Theatre nurses usually wear scrubs.
Scrub nurses wear the scrub uniform.
Mental Health nurses wear either the green or white uniform depending on their qualification.
Ghana Nurses Uniform Samples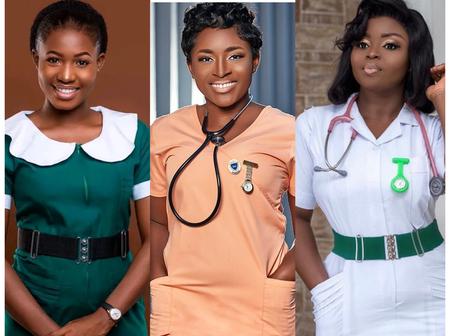 Thank You for reading this post from Latest Ghana as online entertainment and news portal from Ghana. Don't forget to recommend our site, Latest Ghana to your friends and family who might also profit from the information on our website and check out our other articles because we have more information to bring to you via your devices.
I believe you have any comments or suggestions to drop about this article, kindly make use of the comment box below and reach us for more discussion.
Latest Ghana is on the mission to promote anything latest from Ghana; Latest Entertainment News, General News, Sports, Insurance, Banks, Mortgage, Farming, Scholarship, Education and Schools Admission, Product pricing, Food, Fashion, Health, Business and more.